This is just a friendly reminder to all of our furry patients that if you receive one of our email reminders to please call us at the hospital to schedule your appointment. 
This email is a reminder to call and schedule an appointment and not that you already have one scheduled.
We look forward to hearing from you soon. 410-778-2188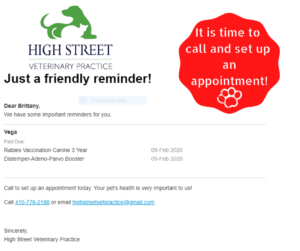 Announcement📢 – High Street Veterinary Practice will be closed for Doctor Appointments this Saturday, September 3rd.
But don't worry, our all-star veterinary technicians will be here for technician appointments and medication refills/pick-up between 8 am-12 pm.
You can also use our online pharmacy to order your pet's medications.
https://highstreetveterinarypractice.vetsfirstchoice.com/
Technician appointments include;
✅Routine monitoring of blood work for medications
✅Regular and Deluxe baths
Please give us a call to schedule at 410-778-2188.
If you should have an emergency while we are closed,
➡️Anne Arundel Veterinary Emergency Clinic
➡️or Middletown Vet Hospital 302-378-2342
If you find a stray animal in Kent County or Queen Anne's County and need assistance from Animal Control, please call:
•Kent County – 410-708-5006
•Queen Anne's County- 410-758-2393