This is just a friendly reminder to all of our furry patients that if you receive one of our email reminders to please call us at the hospital to schedule your appointment. 
This email is a reminder to call and schedule an appointment and not that you already have one scheduled.
We look forward to hearing from you soon. 410-778-2188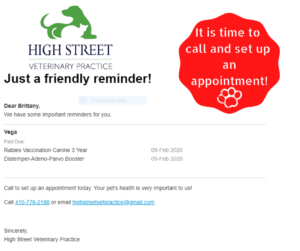 We will be closed on Thursday, November 25th, 2021 so that our employees can have the opportunity to enjoy the holiday with their families. We will also be closed on Friday & Saturday, November 26 & 27, and reopen on Monday, November 29th.
We are thankful for your business and look forward to seeing you on Monday!
In case of emergency please contact..
Anne Arundel Veterinary Emergency Clinic (Aavec)
410-224-0331
Delmarva Animal Emergency Center
302-697-0850
Middletown Veterinary Hospital
302-378-2342
If you find a stray animal in Kent County or Queen Anne's County and need assistance from Animal Control, please call:
Kent County – 410-708-5006
Queen Anne's County- 410-758-2393