This is just a friendly reminder to all of our furry patients that if you receive one of our email reminders to please call us at the hospital to schedule your appointment. 
This email is a reminder to call and schedule an appointment and not that you already have one scheduled.
We look forward to hearing from you soon. 410-778-2188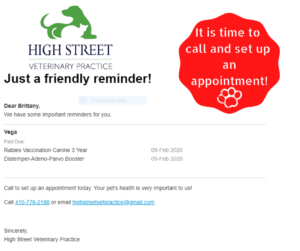 From everyone at High Street Veterinary Practice, we'd like to thank you for your continued loyalty and faith in us. Put your feet up and have a well-deserved rest this Christmas and let every day of the holiday season be filled with joy.
Please make a note of our Holiday Hours.
Christmas Eve – 9am – 1pm
Christmas Day – CLOSED
Saturday 26th – CLOSED
New Year's Eve – 9am – 1pm
New Year's Day – CLOSED
Wishing you all a very Merry Holiday Season! Ho! Ho! Ho!
In case of emergency please contact..
Anne Arundel Veterinary Emergency Clinic (Aavec)
410-224-0331
Delmarva Animal Emergency Center
302-697-0850
Middletown Veterinary Hospital
302-378-2342
If you find a stray animal in Kent County or Queen Anne's County and need assistance from Animal Control, please call:
Kent County – 410-708-5006
Queen Anne's County- 410-758-2393