This is just a friendly reminder to all of our furry patients that if you receive one of our email reminders to please call us at the hospital to schedule your appointment. 
This email is a reminder to call and schedule an appointment and not that you already have one scheduled.
We look forward to hearing from you soon. 410-778-2188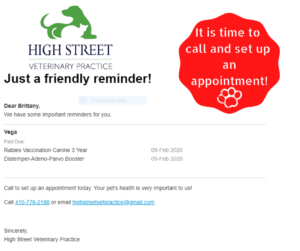 IMPORTANT INFORMATION FOR OUR CLIENTS REGARDING COVID-19
Dear High Street Veterinary clients, friends and families,
We are doing our part to help reduce the risk of the spread of COVID-19 to our staff and clients through some temporary changes in our daily procedures.
Reducing traffic into our hospital:  
Our technicians/assistants will come out to your car to check your pet in, then they will bring them into our hospital.  Dr. Mowell will do a full exam and will come out to let you know her findings/treatments or recommendations
Please call ahead for refills, provide payment over the phone and then call us when you are in our parking lot so we bring everything out to you.
PLEASE USE STREET PARKING DIRECTLY IN FRONT OF THE BUILDING WINDOWS FOR MEDICATION PICKUPS- this way, your vehicle will be in our sightline should our phone line be in use when you attempt a call upon arrival.
Pets will be brought out to your car by our nursing staff.  Discharges will be provided to you on paper and gone over with you prior to via phone prior to picking them up.
Utilize our online pharmacy:  highstreetveterinarypractice.vetsfirstchoice.com
Medications and food will be mailed directly to your door.
We realize that these precautions may be a disruption or inconvenience to you and your pet.  We have implemented these procedures based on State and Federal government and AVMA guidelines.  We will still provide top quality care for your pets and if you have issues with anything, please let us know.  Please remember, our main goal is to keep you, your pets and our staff healthy, happy and safe.
Dr. Rachel Mowell